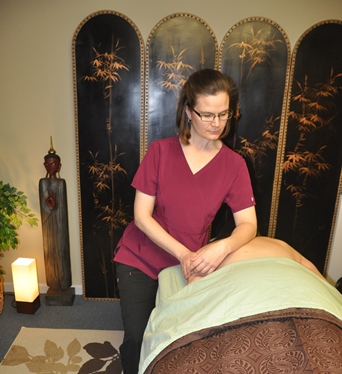 | | | | | |
| --- | --- | --- | --- | --- |
| In studio Massage Services: | | | | |
| Swedish Massage | 30min/$45 | 60min/$80 | 90min/$115 | |
| Pregnancy Massage | 30min/$45 | 60min/$80 | 90min/$115 | |
| Deep Tissue Massage | 30min/$45 | 60min/$80 | 90min/$115 | |
| Hot Stone Massage; Warm Bamboo Massage; "Sticks & Stones" Massage | | 60min/$90 | 90min/$125 | |
| Myofascial Release Technique | | 60min/$80 | 90min/$115 | |
Reflexology (hands & feet) - 60min/$70 90min/$105
Sports Massage (recovery, maintenance & injury management) - same times and prices as deep tissue massage.
Out of Studio Event Massage using Massage Chair or Table:
Chair massage is a flat rate of $75 per hour.
Out of studio table massage prices are $90/hour for Swedish, Pregnancy, and Deep Tissue. Hot stone massage is not performed off site from the Mountain Massage studio.
*All out of studio massage services include an additional fee for mileage for roundtrip travel for therapist to and from the event and the Mountain Massage studio location.
| Service/Product | Rate | |
| --- | --- | --- |
| Deep Tissue Massage | $80 | / 60 minutes |
| Deep Tissue Massage | $115 | / 90 minutes |
| Hot Stone Therapy | $90 | / 60 minutes |
| Hot Stone Therapy | $125 | / 90 minutes |
| Pre-Natal/Pregnancy Massage | $80 | / 60 minutes |
| Pre-Natal/Pregnancy Massage | $115 | / 90 minutes |
| Reflexology | $70 | / 60 minutes |
| Reflexology | $105 | / 90 minutes |
| Sports Massage | $80 | / 60 minutes |
| Sports Massage | $115 | / 90 minutes |
| Swedish Massage | $80 | / 60 minutes |
| Swedish Massage | $115 | / 90 minutes |